It was November 2012 that I finalized my order on the 2013 DSDP. In order to get to that point I had endured 3 bad dealerships, with one being a failed delivery earlier in November. The dealership we chose at the time ended up losing their newmar contract, and ever since then I have been paying attention to dealerships that I would even consider dealing with. There are plenty to choose from that are reputable, but a few really stand out.
Price is always a concern, and often I buy on price alone. Alright, most of the time I buy on price alone. In this case the additional factors that came into play is working with a dealer that there is absolutely no question about their history of standing behind their product and delivering exactly what they say they will. A couple of things that were important to me: 1) Factory delivery, 2) Keeping my RV until then, 3) Not playing games, and 4) Delivery in October.
As we all know, May 11 was the day that all the information was being released. I started emailing several dealers on the 9th, to establish a relationship, and to be on their list for first responses.
When I did receive the initial information about what was new, the changes from 2018 to 2019 are not what I would consider significant. Unlike the 2015 to 2016, there is nothing brand new about the 2019 Dutch star other than the exterior end caps. All of the technology that is in the 2019 has been available for Dutch star for at least a year, and most of it multiple years, with the exception of the Digital Dash. All of the known issues with prior years, such as Tag Axle, Slide Level, and front axle weight have been addressed, so the change to a new model year is going to be much less strain on the production line than some prior years. For that reason, I decided to jump on the order ASAP.
I placed calls or sent emails to my personal top 3, and ended up choosing to deal with Chad @ Midway RV. He not only responded with the information I wanted, didn't waste my time, but also provided fair pricing up front without haggle. Early on I expressed the concern about timing, with factory delivery in October, meaning a September production date. Because this week was so frantic, and I had specials, it was hard to nail down an exact timeline, but Chad was able to hold a spot for me while we worked out the final details.
On paper, we had decided that the 4362 was the right coach for us. The floor plan is very similar to our current 4347, with several improvements. From the moment I started working with Midway, we were talking about the 4362, the specials, options, etc. I even had Chad send in several requests from Newmar for the specials. I told him before we signed the paper, I was going to another dealer to see the 4362 in person, and would sign afterwards.
After comparing the 4362 to the 4369, and going from one to another multiple times, we ended up choosing the 4369. Both are great floor plans, and it was a tough decision. The reason we choose the 4369 over the 4362 is listed below. This is not a negative to the 4362, just our personal choice.
Shower – The 4369 has the step-up at the bedroom to bathroom. The 4362 has this step up much further back. The result is the step into the shower is a large step-up. We didn't like this.
Pantry – The 4369 has a pantry nearly twice the size of the 4362…Huge improvement for an area that we really could use more storage.
DS Couch – The 4369 couch is 74" vs 68" on the 4362. We have tall kids, so this is a feature they will enjoy. The ODS couch is larger in the 4362 (92" vs 87"), but they both make the same size bed. The way that the DS Jack Knife bed and ODS side bed fold out leaves room to walk between them. This is not the case in the 4347, and as far as I am concerned, a MAJOR upgrade. Traveling with kids, we use the beds all the time.
Mid Toilet Room – The 4369 felt easier to access. On paper the opposite looked to be the case.

Areas that we felt the 4362 was better:
Washer Dryer Location – We are not crazy about the 4369 location for the W/D, and feel the 4362 location is better.
Walk in Closet – The walk-in closet is amazing. We have really enjoyed this. We are hoping since we are now traveling as a family of 4 most of the time, the room won't be missed…time will tell.
Linen Closet in Master Bath – This closet is one that we have now, and I am hoping we aren't going to miss this too much.
That pretty much sums up the differences. When I called Chad to tell him we had changed to the 4369, he almost laughed at me (didn't but was close), saying that he couldn't figure out why we weren't doing that to begin with.
Now on to the order. From the order sheet, the options we chose are:
Freightliner Chassis
Velocity Interior
Bermuda Glazed Maple High Gloss
Electric Floors
All Electric
Central vacuum
Dishwasher in a Drawer
Freezer on a slide
2pc Stacked Washer
Exterior Tv
Prep for Ground Sat
Omniview PV360
Sirius Radio
Front TV
Wineguard InMotion
Xite Dash Radio
Euro Booth Dinete with extra leaves & 2 chairs
Heated Drivers & Pass Seats
Sleep Number
Recessed Dock Lights
Surge Transfer Switch
Baggage Door Stainless Steel Trim Kit
Large Tray – 1 Side (Opposoite Oasis)
Large Tray – 1 Side (DS Large Full pass thru bay. Only ½ will have a sliding tray )
MCD Power Shades
Safe in Wall
Shoe storage
Shower Assist Handle
Hot Water at Generator
Girard Package Upgrade
Large Kitchen Window
Customer Pickup
The Specials we chose are:
Custom Paint
GE Advantium Convection Oven ILO Standard Microwave
KG19-100 FLOOR TILE Laid in the KGDB Pattern /c CREAM rubber strip
RUN CAT6 & RG6 from roof to OHC above driver
RUN CAT6 and RG6 from OHC above driver to AV cabinet above televator
RUN CAT6 from AV cabinet above televator to bedroom av cabinet
DASH TO BE ALL BLACK – NO TWO TONE
I was denied the special to have the Oasis pre-heat option installed, so Midway will be doing this for me after factory delivery. All other specials I requested were approved.
I am told that the production date is in September, with an October FPU. It will be 30-60 days before I get more concrete dates.
he custom color we chose for the exterior is based on the LADP Caprice. I changed the placement of the colors until i found one that looked right using Adobe Illustrator.
The screen representation is no where near the actual, so I am attaching a copy of what one looks like. The Marina Black will have a blue appearance in some light.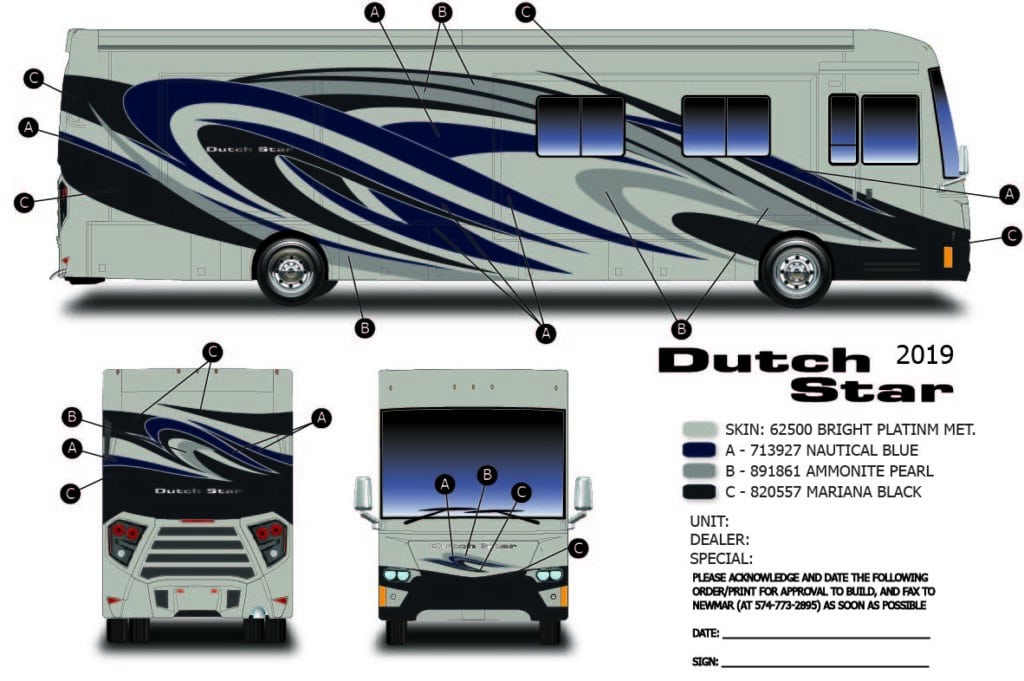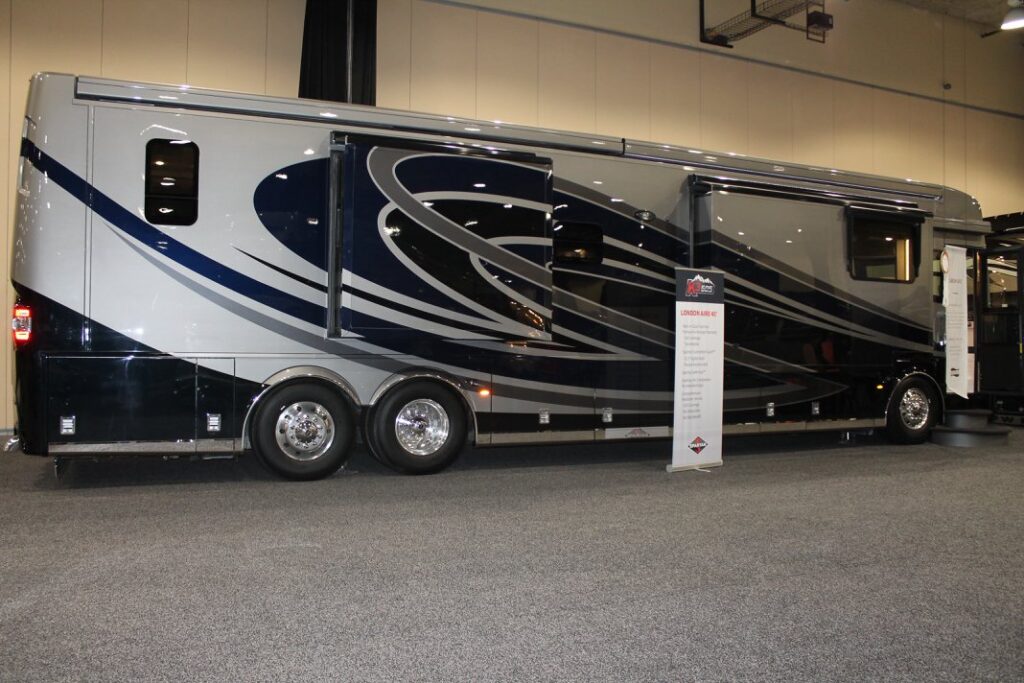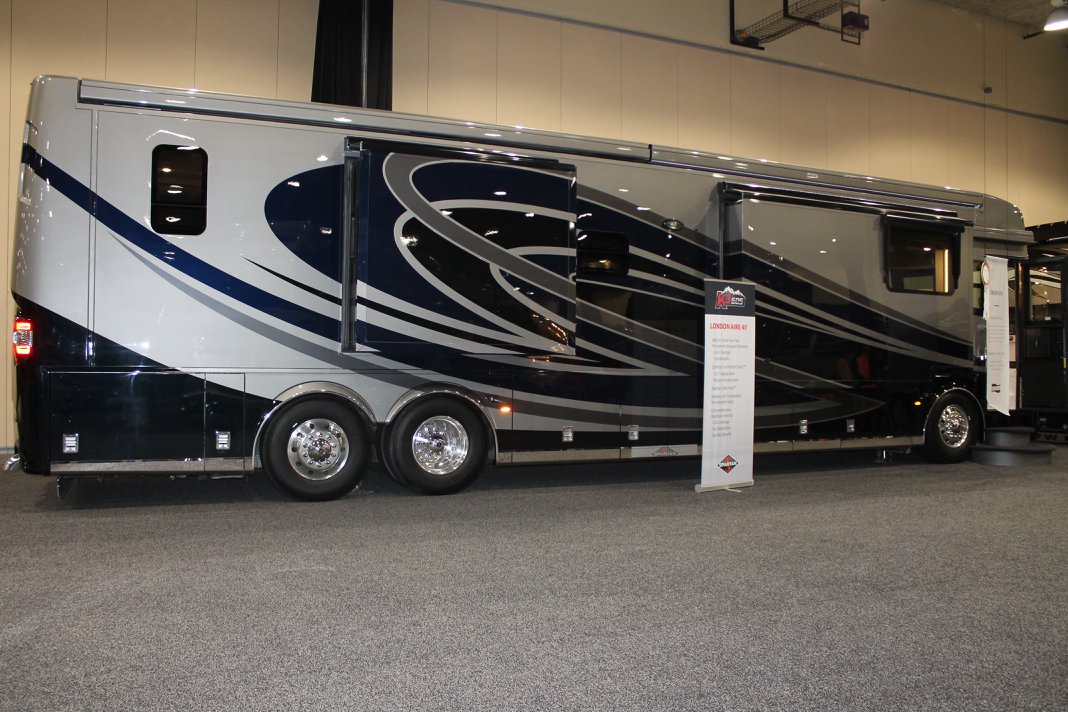 I will be working on a list of planned customization's. So far this is what I have on the list:
OASIS PreHeat Loop
HWH Active Air
Centramatics all the way around
Fence Post Sewer Hose Holder
Weeboost LTE Signal booster
Wifi Directional Booster
Spot Free Rinse / Pressure washer install
Soundbar replacement / Upgrade
BMK Kit
Silverleaf VMS350
TST TPMS
Sewer 360 Siphon Vent
MaxAIR Vent covers